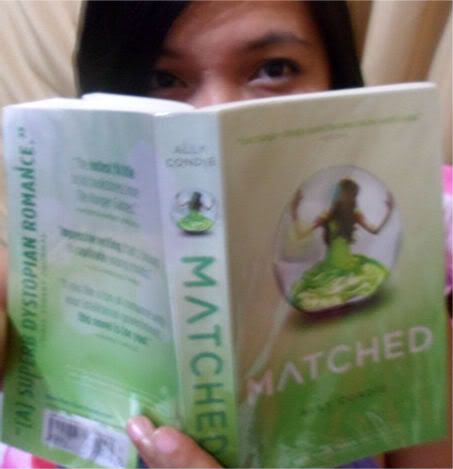 I picked-up this book after watching Allthatglitters21 book haul. It was recommended to her by her subscribers and I thought that the book was interesting. The review says that if you like the Hunger Games then you will also like this book since it also has a dystopian setting and it has a little bit of romance. So I paid my local bookstore a visit and I searched for this particular green book and luckily I found it and decided to pick it up since I'm fresh out of books to read and I am huge Hunger Games fan.
Well this book is just what they said, similar to the Hunger Games in terms of dystopian romance setting but I found that it is not as exciting and thrilling as the Hunger Games books. It took me awhile to really get into the story and I did not have the feeling of not wanting to put the book down until about the last 5 chapters of the book. Throughout the book I was waiting for something exciting to happen that would change the destiny of the three main characters namely Cassia, Xander and Ky. Throughout the story I found that the romance build-up was kinda slow for Cassia and Ky and as for Xander, I did not see him exert himself to get Cassia's heart back not until the final 3 chapters.
I am more excited for the second book since things were just beginning to heat up at the end of this book. The story line of this book was really slow for me but overall the author did a somewhat of a detailed picture of the society the book clearly explains the rules of the society and the reader can clearly understood how the society works. I feel that this first book only serves as a background or the stage for all the exciting twist that will happen to Cassia quest in finding Ky in the second book and also to Xander plans in getting Cassia's love back. Well at least that is what I expect for the second book.
For the die hard Hunger Games fans that want action and excitement this book may not live-up to your expectation because of its slow pace. As for me I think I will still pick up the second to verify if my theory is correct that the story line will pick-up in the second book and since I'm also curious as what will Xander do to get the Cassia back. I always find myself rooting for the best friend to end up with the girl.