I just got home from work and heard the news that my nanny/auntie since I was wee small is going away. She is going to work abroad I guess. Now I am now faced with the immediate problem of having to take care of myself. It is sad that a grown woman, well at least I think I am, is troubled of having no nanny. Well I just so happened that she was with us since I was about 5 years old and up to now she has never left us. I am already 25 but I have zero skills when it comes to house chores. I guess growing up with a full time nanny can be unfavorable because you can't really learn how to survive without depending on someone.
Since it is quite probable that she will leave us this coming October 2011, I made the list of the things that I love about my Auntie.
♥ Delicious home cooked meals. I will miss the lunch that she would pack for me.
♥ She would always do my nails.
♥ Take care of my dog.
♥ Wash and pick my favorite clothes.
♥ Clean my room and organize my stuff when I'm tired or simply lazy.
♥ Fetch me when there is flood. (oh yeah we get flooded often)
♥ Decorate the house especially on Christmas.
♥ Make the garden beautiful.
♥ She simply takes care of my needs whatever they may be.
Now that I think about I'm pretty much spoiled rotten. I realized that I have been lazy and avoided to do household chores because I know that my auntie is there to do it for me. Well I think I have to grow up now and be more responsible. How can I expect to survive if I can't even the do the simplest house chores. Living without my auntie would be difficult but I will strive to learn and overcome this new challenge of my life and I will work hard to be a responsible adult at work and at home. This realization may be long overdue but I can't help but feel lonely and sad without my auntie around. Of course there are times that we would argue and fight but I love her and I just wish her to be happy whether she stays with us or not. If ever the time comes that she will leave surely I will see her off with the smile on my face because she has been nothing but good to me and my brother.
Here is a picture of me and my auntie.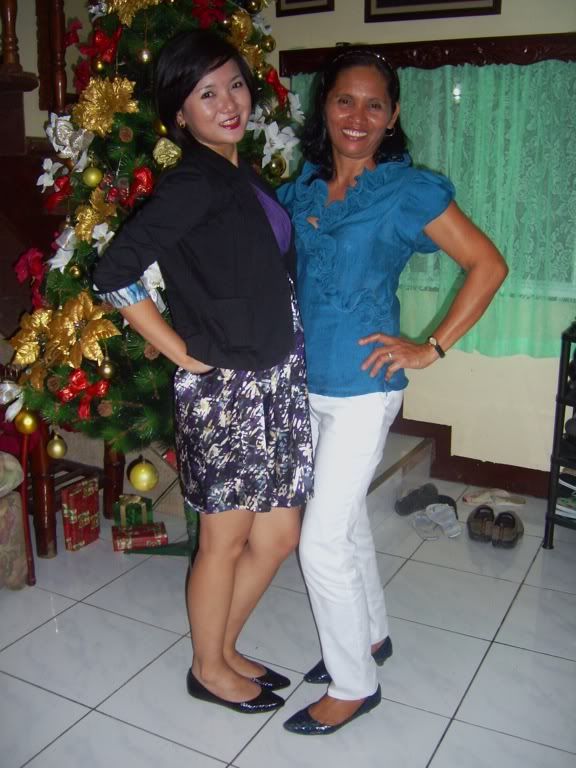 I wish you good luck on your upcoming trip and stay safe auntie!