My boyfriend Sting and I just celebrated our 6th year anniversary last December 20. He had the whole evening planned out, dinner at a fancy hotel, we would then exchange gifts and talk about anything and everything for the night. I was so excited to do all the things that he planned but everything changed since our City suffered a great tragedy 3 days before our anniversary. Our city was hit by a typhoon that flooded the big part of the city and killed almost a thousand people and destroyed properties worth millions. Thankfully we were not affected by the flood. Our hearts went out to all of those people who lost their homes and loved ones and we did our share to donate and help the people affected by the flood.
On the day of our anniversary we felt that going on a luxurious date was not proper since how could we celebrate in such an excessive manner knowing that a lot of people are mourning the death of their loved ones. Nevertheless we decided to have a simple dinner at a local pizza place. Even thought it was not the luxurious date that we planned we still had fun and we still get to exchange gifts. My boyfriend gave me a silver locket with our picture inside it. It was so sweet since he never did told me what he was getting me for our anniversary which was strange since we pick-out our gifts together. It gave me a little scare because I thought that he was going to propose. I told him about it and he had asked me what would I have done if he did proposed, then he added that he would only accept a Yes or NO answer and nothing else which made me laugh since he was do dead serious. He told me that since we were already 25 turning 26 next year he may pop the question next year which made me really nervous. We usually talk about our future but I always imagined marriage to be in the far future and him saying that it may happen sooner made me really happy and nervous at the same time.
Despite the calamity that happened to our city I was happy to have celebrated our 6th anniversary. I was also super happy that he liked the gift that I gave him which he picked and the little surprise Christmas gift that I got him. I'm looking forward to the next anniversary I hope no more calamities will happen so that the people here could properly celebrate the holidays.
We had a little feast just the two of us which gave me stomach ache from eating too much that we skipped going to the movies and just went home after.hehe
Sting opening his surprise early Christmas gift and reading the little note that I wrote him.
Two of us goofing around during dinner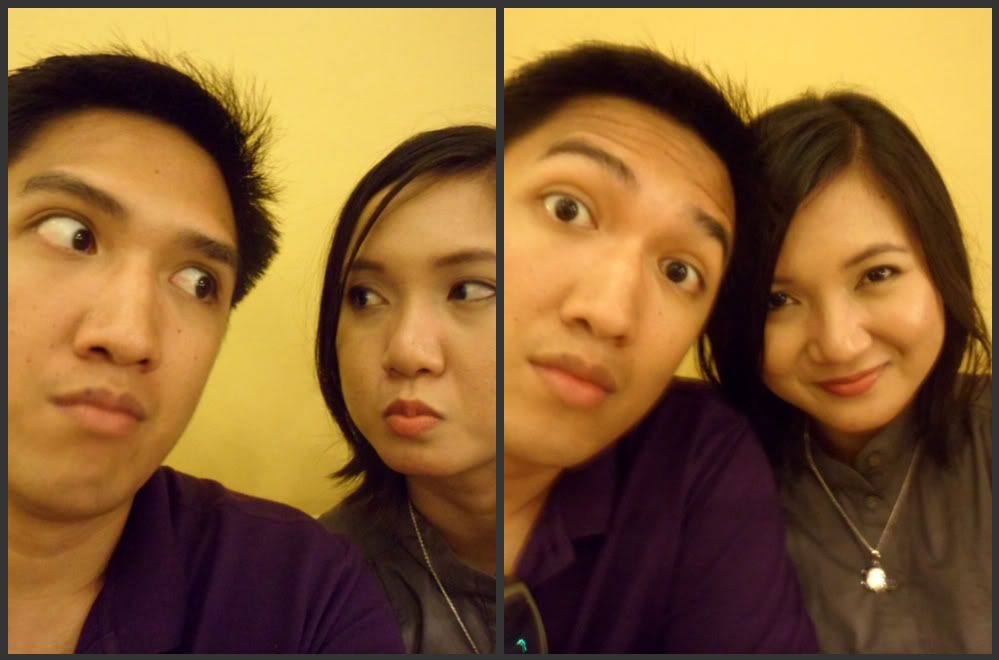 The lovely gift that he got me.
We always take pictures in the cab for no apparent reason.
I had to take picture of the locket with the case because it is so pretty.